Our October School Holiday Programme is HERE! Get ready it is going to be a great one at Richmond Chill Out!
We have an awesome line-up of activities these Holidays and there's no programme more exciting in Richmond! Activities include: Flip Out , Laser Tag, Timezone, Mountain Biking, Roller-skaitng, Teapot Valley, Hydroslide and so much more. Book now to secure your place!
Here at Richmond Chill Out we have a focus on being a family. We are about kids trying new things, making new friends and taking them on experiences that will create memories for life!
Please check the activities for the week ahead. Kids must bring a hat, drink bottle, BIG LUNCH, sunscreen (if your child has an allergy, we do provide options). It is essential that children have togs everyday. As we get to swim in the awesome Richmond Aquatic Centre pools everyday!
All children must be at Waimea Intermediate School Hall by 9am for roll call, we close at 4pm, with extra care till 6pm if required. Please note if child is Absent you need to give 72 hours notice for a refund. Absences on the day are CHARGED AT FULL PRICE.
We are MSD Approved and WINZ subsidies available for families in our community – you could save up to 80% on your fees! We encourage you to visit us at the Centre for us to fill in your forms. We also strongly encourage those parent/caregivers who are applying for WINZ subsidies to start this process early to avoid disappointment.
So enrol now to avoid missing out.
If you have any questions about our programme give us a call at Richmond Aquatic Centre on 03-543 9755 or Malcolm 0274 677 225 or MAL@clmnz.co.nz
Fabulous Flip Out
Ages 5-14 only
Today we are going to show off our flipping skills at Flip Out Nelson. This trampoline park has a foam pit, tumble track, climbing wall, parkour area and wall trampolines! Then back to the pool for a swim!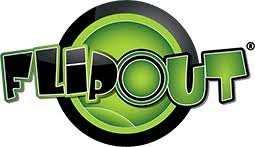 Senior - Combat Laser Tag
Ages 9-14 only
It's time to see who the sharpshooters are as we have a go at Laser Tag. We are heading down to Tahunanui Beach to check out Pro Combat Laser Tag. Then it's back to Richmond Aquatic Centre for an afternoon swim.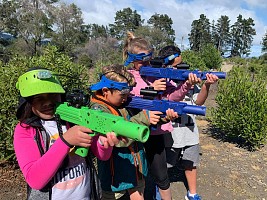 Junior - Megaslide Extravaganza
Ages 5-8 only
We are head down to the beach today, for some games and fun in the sun. While we are there we will go have some fun on the amazing Megaslide. How fast can you go? Then it is back to the pool for a swim in the wave pool!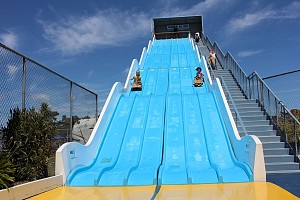 Movie Madness and Combo
Ages 5-14 only
What is the school holidays without a trip to State Cinema's Nelson! Relaxing in the comfy seats, watching a movie on the big screen with popcorn and a drink, this is a day you will not want to miss. Then time for some wave pool fun!

Hydroslide and Mini Golf
Ages 5-14 only
It's a morning spent down at the Nelson Fun Park for some wild hydroslide fun! Then its time to show off your amazing mini golf skills! After all of that fun its back to the Richmond Aquatic Center to relax in the pools.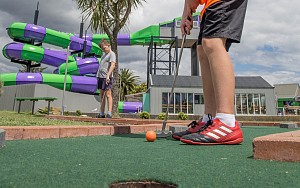 Seniors - TimeZone
Ages 8-14 only
This is a day not to be missed! Today we are heading down to check out TimeZone Nelson! An hour and a half of unlimited arcade games is sure to thrill everyone. After all the action we are heading back to the Richmond Aquatic Centre to swim!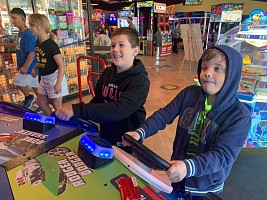 Juniors - Action Gymnastics
Ages 5-8 only
We will be heading down to Nelson Gymnastics! To spend the morning showing off our gymnastics' skills. They are going to teach us how to Flip, Jump and Roll. After all of that it is time to cool down in the pools!

Inflatable World Fun Day
Ages 5-14 only
How does heading down to Action Centre sound! We are going to run, bounce and jump around the awesome Inflatable World. Who will win as you race around the obstacle course? Then it's time to cool off in the pools!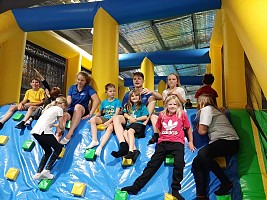 Seniors - Mountain Biking
Ages 9-14 only
We are heading out with Krankin' Kids to have some mountain biking fun! This is a day not to be missed. Krankin' Kids is an organization that is dedicated to empowering our next generation of mountain bikers. (Minimum 5 Kids, own bike required)
Roller-skating Extravaganza
Ages 5-14 only
Time to show off your roller-skating moves! The morning will be spent down at Nelson Roller-Skating sliding and gliding around the awesome rink! After all that skating fun its time to cool off at the Richmond Aquatic Centre.

Movie Magic and Combo
Ages 5-14 only
We are off to State Cinemas Nelson! What better way to spend the day then filling up on a medium combo and relaxing at the movies! After all that relaxing it is time to head back to the Richmond Aquatic Centre for a dip in the pool!

Adventure to Teapot Valley
Ages 5-14 only
What a way to spend a day than at Teapot Valley Camp! We will be spending the day exploring a range of activities such as raft building, Archery, Orienteering and most importantly the awesome zip line. This is one a day not to miss!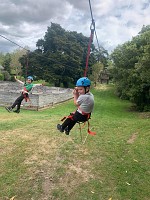 Flipin' Friday at ProBounce
Ages 5-14 only
What a way to end the holidays than at ProBounce! The morning will be spent exploring the Bounce Zone, Walking walls, Challenge walls, Airbag, Basketball hoops (Slamdunk) and Dodgeball court. Then it is time to relax and cool down in the pools!

location_on 161 Salisbury Road